Update #6: Alex Adventures Abroad
Welcome to my sixth update about my adventures abroad in Sydney, Australia! Since my last update, a lot has happened to me. I traveled to the Blue Mountains, explored some new neighborhoods in Sydney, and published my first book!

But to get things started, I've put together a video of my latest trip to the Blue Mountains. You can check it out below!
Week #16: The Island, Glebe Markets, and Luna Park
After my parents left on Friday morning, I took a day to recover from all of our adventures. But on Saturday, I was back in action!

Some of the highlights of my week included...
Taking a ferry out to a bar called The Island and enjoying several Aperol Spritzes with views of the Sydney Harbour Bridge
Exploring Spice Alley and tasting traditional foods from Hong Kong, Singapore, and Malaysia
Getting back into the swing of things at General Assembly
Seeing the movie "Ladybird" at the iconic Luna Park amusement park with views of the Sydney Harbour Bridge again
Shopping, but mostly eating, at the Glebe Markets with old and new friends
It was nice to get settled back into Sydney after all of my travels around New Zealand. However, I still took advantage of everything there is to do in Sydney!
Week #17: Book Launch and the Blue Mountains
While Week #16 was one of my most relaxed weeks in Sydney, Week #17 was probably one of my busiest weeks. If you didn't already know, I published my first book, The Generation Z Entrepreneur, on Tuesday, April 24. It is now available on Amazon in paperback and in eBook! While I initially thought that writing would be the most time-intensive part of the process, I quickly came to realize that the launch required just as much work.

But once I tied up all the loose ends with the launch, I traveled to the Blue Mountains on a field trip with my Learning in Outdoor Education class! While the housing conditions were questionable, to say the least, it was a great weekend to disconnect from electronics and connect with my friends in the wilderness. We spent three days hiking around Blue Mountains National Park, and I got to see the Three Sisters - one of the most photographed areas of Australia.
Week #18: The Happy Hour Tour Continues
With my book launch and one of my classes finished, I started to check more things off my Sydney bucket list. Many of these things being happy hours.

It is now considered to be Fall in Australia, which means the weather is starting to get colder (AKA: about 70 degrees Fahrenheit). While you see many locals starting to put on jackets and complaining about the "cold" weather, I'm embracing my favorite season of the year.

Some of my highlights of the week included...
Playing mini golf at a golf-themed bar in Newtown called Holey Moley Golf Club — one of the golf holes was Elvis Presley-themed and the hole was a golden toilet!
Exploring the Sydney Fish Market and trying some sushi donuts and freshly-cut salmon sashimi
Cheers-ing at Watson's Bay Boutique Hotel overlooking the sunset on the Sydney Harbour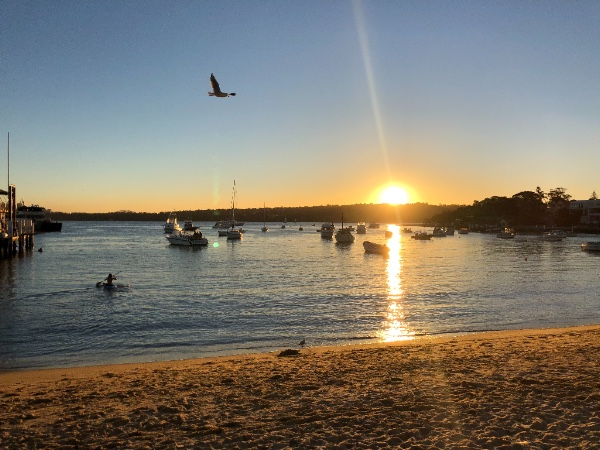 It's crazy to think that I've already been studying abroad for over four months now, but I'm making sure to appreciate every opportunity and experience that I have here. Time truly does fly when you're having fun!
Be on the lookout for my next update in a few weeks, and you can always check me out my website, Facebook, and Instagram.

Lastly, if you're not subscribed yet, you can subscribe here!